about this site: Mathematics and physics of the piano
The Acoustic piano as a laboratory of science
Subject: The more complete polyphonic instrument of the symphonic orchestra is the grand piano, or as it was first called: piano-forte. Piano is an talian invention of XVIII century. Now the piano emerge as a science laboratory, on which one can find and verify many principles of acoustic physics, and correlated disciplines in deep way. What I have tried to do here is to focus a vast panorama about all is concerned with acoustic grand-piano, in order to build a university thesis to defend for my graduation, as a partial fulfillment of the requirements for the acoustic "Laurea-Specialistica" first level degree. This is a technical and theoretical approach to grand-piano functionement from the point of view of physics.
Introduction: Evolution of piano transformation from its initial conception and design last for over 200 years. People think therefore that mechanical operation and essential acoustics of that 'old' instrument is something not possible to improve, from now on a kind of nineteenth-century technology masterpiece. We need to reconsider that I think, because of current technological progress in material science and applied physics.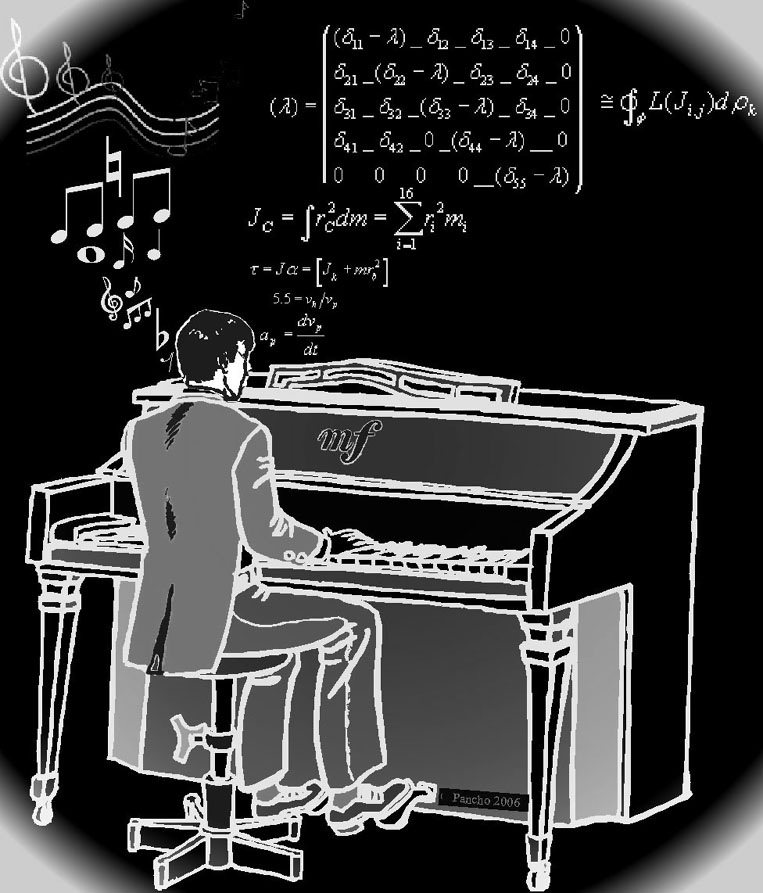 Essential aspects of piano action and piano functionement has been examined in this experimental thesis work, you will find many specific technical data and analyses of piano action were studied from a new point of view both, theoretical and practical workbench.
The task was not easy to achieve I have to say, search on the expressive possibilities and operation mode of the grand piano is really multiple. Matters include software of acoustic dynamic simulation of action, electronic electroacoustic robotics for keyboards, ceramic acoustic actuators, studies on the physical qualities of new materials like carbon fibers, kevlar, etc. So I had the need to shorten the field of view, because of the more and more extent of the subjects, and because of time restraint of update for submission and discussion of the thesis.
Beside all that, specialized procedures for manufacturing traditional materials to produce high quality spare parts for acoustic pianos are in constant development, the fields for piano industry improvement are promising from the point of view of future work in some countries. This leads me to think about returning after this educational purpose to review the work done so far, and try to continue to do research in piano industry.
So, this website focus principal excerpts of a graduate degree physics thesis on a model of pianoforte mechanical functionement. A theoretical compendium but also practical was wanted to be realized in this thesis work. Starting to consider previous physical models that describe the conventional acoustic piano action and playing mechanism, it has been attempted to give room to many of the phenomenological aspects of the action, that aspects that still have not been sufficiently studied and experimented in such old models. A new model is proposed and discussed here.
If in the accomplishment of this task the more remarkable aspects have been visited, and this could somehow stimulate curiosity nor perplexity of readers of scientific literature and artists, the author, myself, could consider to be lucky. Thanks for your visit, feedback this out with your comments, I'll be glad to reply.